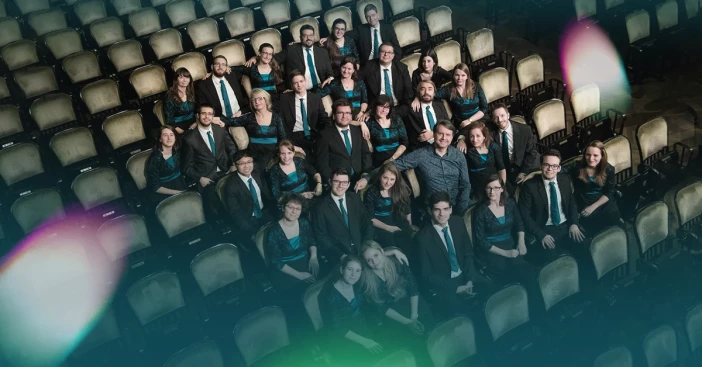 Buy Tickets
Type:
Concert
Special programs
Genre:
Classical/Contemporary
---
New Liszt Ferenc Chamber Choir
art director
László Norbert Nemes
Composer: Bartók
String Quartet No. 4, Movement III
Composer: Ligeti
Night (Text by Sándor Weöres)
Composer: Eric Whitacre
Enjoy the Silence
Composer: Eric Whitacre
Water Night
Composer: Bartók
Out of Doors: IV. The Night's Music
Composer: Ēriks Ešenvalds
Stars
Composer: Ēriks Ešenvalds
Northern Lights
Composer: Judit Varga
The Night
Composer: Ola Gjeilo
Dark Night of the Soul
The New Franz Liszt Chamber Chorus's Hymns for the Night promises a dynamic concert with many surprises for the audience. The innovative choral voicing, the combination of instruments with the human voice (tuned glass pipes, piano, string quartet) and the progressive effects used in the works are unusual, but also extremely exciting. The programme for the concert is based around the theme of the night. The subtitle of the programme – A Psychedelic Choral Concert – uses a common enough adjective in the world of pop and rock, implying a kind of trance state that can be associated with the night, silence, dreams or even the subconscious. The music will be accompanied by a projection to help the listener take in the works themselves, and the choral pieces will be preceded or interrupted by a string quartet and piano playing "pieces of the night" to help deepen the mood. The final piece of the performance, a work by Ola Gjeilo to a text by St. John of the Cross, will bring together the choir, string quartet and piano. In the context of Gjeilo's work, the night represents a cleansing of the soul.