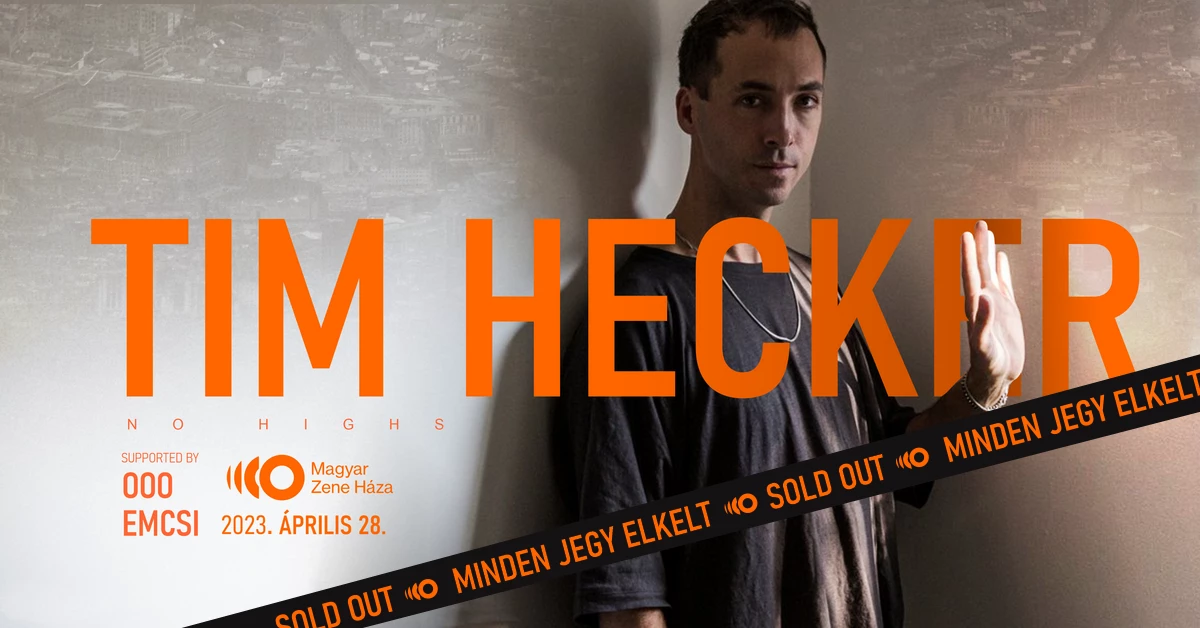 SOLD-OUT - Tim Hecker (CA) | emcsi | OOO
Sold Out
Type:
Concert
Program series
House of Music Hungary production
---
---
SOLD-OUT - Tim Hecker (CA) | emcsi | OOO
Canadian composer-producer Tim Hecker is one of the 21st century's most prominent contemporary electronica composer-producers. One who explores the intersection of ambient, drone, noise and avant-garde with great emotion and variety. His best albums are among the most important works of recent decades, and his live performances unleash incredible energy. He is bringing his latest album, No Highs – due out in April – to the House of Music for an evening that will also feature local artists OOO and Emcsi.
Tim Hecker is a Juno Award-winning Canadian composer and musician who hails from Vancouver. Over the past two decades, he has produced a wide range of works in the field of contemporary electronic music, released on the Kranky and 4AD labels amongst others. His work focuses on exploring the intersection between noise, dissonance and melody, fostering an approach to music that is both physical and emotional. His work has also been described as "structured ambient" and "electronic music for cathedrals". His discography spans over 10 albums, including the critically acclaimed Ravedeath 1972, Harmony in Ultraviolet and Virgins. A keen collaborator (Arca, Daniel Lopatin, Jóhann Jóhannsson), Hecker has also composed scores for original film and TV series – most recently for the BBC series The North Water and, in January of this year, for Brandon Cronenberg's Infinity Pool.
In No Highs, due for release on 7 April, he is bringing a brand new body of work to the House of Music. It is a kind of counterpoint to the current tide of mass-produced, falsely positive ambient music. Whether you take it as a warning or a promise, No Highs delivers. A kind of anti-tranquiliser in our over-medicated age, and it is tough, elusive music. The album also features Colin Stetson's beautiful modal saxophone, and these fresh tracks avoid drama at all times, undulating rather than building to a climax.
OOO, aka Márton Csernovszky, may be familiar from bands like Deus Ex, Mordái, Kinetic Erotic or the late Best Bad Trip. As an experienced jazz musician and multi-instrumentalist, Csernovszky playfully mixes acoustic patterns with the metallic tones of modular synthesizers, and has written music for contemporary dance performances, and even performed a Górecki homage infused with sombre ambient techno on his debut album (Sírversek I-VI, 2019 [Epitaphs I-VI]).
Emcsi is a sound artist and producer whose compositions are deeply rooted in personal experience. He collects and processes field recordings and material from a variety of sound sources, including electroacoustic samples, and mixes electronics in his definitive works. He creates unique, layered textures that reveal a provocative, infinite soundscape. He is currently studying for a BA in Electronic Music and Media Arts at the University of Pécs, and is also a presenter at Lahmacun Radio, as well as being a member of the ASS Budapest audio-video workshop.