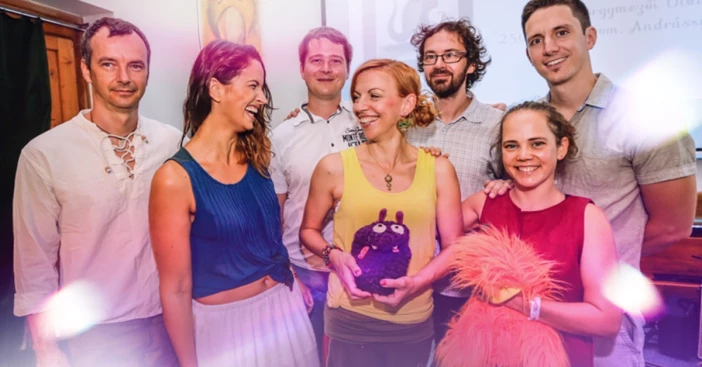 Buy Tickets
Type:
Concert
Music education
Program series
Genre:
Junior/family
Jazz
House of Music Hungary production
---
---
flute, saxophone, moderator
Eszter Strausz Vörösné
alt saxophone
Mihály Bazsinka
Kokopelli Jazz Matinee is the only jazz music group in the country to provide concerts for children: in addition to jazz, they also offer a variety of games, exercises and fascinating music. They will be joined by two plush puppet friends, Fluffy and Chirpy Beak, who will get them into all sorts of scrapes. All this with very colourful and moving music and songs. A seven-piece jazz band, Jazz Matinee will perform interactive, playful concerts for preschool and school age children. Their aim is to use jazz as a means of keeping children's improvisation skills alive by performing their own compositions and lyrics, and promoting creative problem-solving and its everyday application through improvisation. The two presenters (Eszter and Niki) engage the children with games, puppets and many exciting exercises to keep them connected to the orchestra throughout the concert.
The language of the event is hungarian.
The concerts in our series are designed to highlight the diversity of music. Classical, jazz and popular music are all part of the series, so if you attend our events, you will soon see that music truly has a thousand faces. What is more, following the concerts, the performers provide an opportunity to get to know the instruments that were played during the performance and take a closer look at them. Put another way, taking part in a musical journey has never been easier.
Recommended age: 5 years and up.
The language of the events are hungarian.