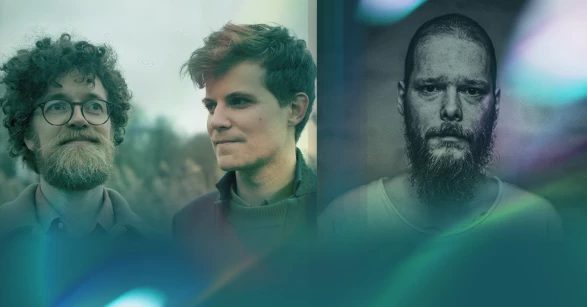 Svaneborg Kardyb (DK) I iamyank: Phasing Shapes new album release concert
Buy Tickets
House of Music Hungary production
---
piano, keyboards
Nikolaj Svaneborg
vocals
János Herold (iamyank)
Saxophone, electronics
Dániel Varga
Svaneborg Kardyb (DK) I iamyank: Phasing Shapes new album release concert
On this April evening, Denmark's Svaneborg Kardyb and iamyank will be performing at the House of Music, both offering instrumental music that invites you to set off on an inner journey. The latter will open the evening with a performance of their latest album, the colourful, broadly-arching, increasingly dynamic and jazzy Phasing Shapes, which features Levente Boros (drums, electronics), Marcell Gyányi (bass) and Dániel Varga (sax), electronics), followed after a short break by one of the leading acts of the Nordic jazz, electronic and ambient scene, the keyboard and drum duo Svaneborg Kardyb, who will enchant you with their nature-inspired freestyle music. This experimental, jazzy, electronic duo will arrive for their first ever tour of Hungary with their third album, Over Tage, released on Gondwana Records in 2022.
This Danish duo straddles cusp between chamber jazz and progressive electronica, but their music is more about finding moods than naming styles, with Nikolaj Svaneborg on Wurlitzer, Juno and piano, and Jonas Kardyb on drums and percussion. Active for ten years now, their principal source of inspiration has been the melodic interplay between the North Sea and the winds blowing there, seasoned with the songs of the seabirds. Their music, however, creates more warmth than chill, indeed the effect is overwhelmingly soft, melodic and peaceful. They exploded onto their national music scene in 2019 with their award-winning debut album Knob, and continued at the same high level with their Haven LP in 2020, so it's no surprise that they were snapped up by the genre defining Gondwana Records (see also GoGo Penguin, Portico Quartet, Sunda Arc, Hania Rani), and their latest great release, Over Tage, came out in Denmark in November 2022. Drawing on Danish folk music and Scandinavian jazz influences, the duo's music is a compelling and joyful blend of beautiful melodies, subtle minimalism, catchy grooves, laid-back electronic vibes, Scandinavian atmospherics and organic interplay. The evening will kick off with a preview of iamyank's latest album Phasing Shapes, due for release this year. Phasing Shapes is a project that started as a one-off and matured into an album. It takes the textural downtempo world of iamyank in an exclusive form in a more colourful, dynamic and broadly arching direction, spiced with ritual rhythms and avant-garde jazz flavours, with Levente Boros (drums, electronics), Marcell Gyányi (bass) and Dániel Varga (saxophone, electronics). The album launch will be an exclusive concert, especially tailored to the House of Music. A must for all collectors and highly recommended for the naturally curious.
There are no seats at the concert
We would like to draw the attention of our dear guests to the fact that there will be no seats at this standing concert.
Thank you for your understanding!